Simulation services

CESGA provides computing servers of different architectures to allow researchers to pick up the architecture which suits their computing needs best.
Computing systems installed in CESGA:



Internal communications in the Center are made on ATM, ETHERNET and GIGABIT ETHERNET networks.

These machines were co-financed by Xunta de Galicia, CSIC, ICYT and FEDER.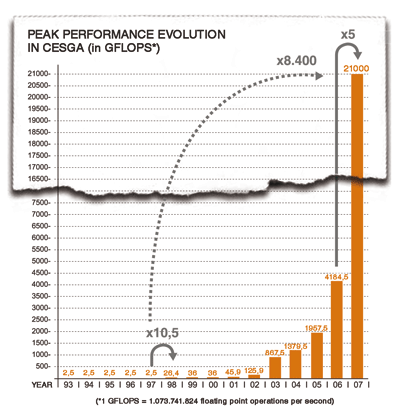 Technical Details of the Installed Systems
FINIS TERRAE

Architecture

Cluster SMP NUMA

Number of Processors

2.528

Type of Processor

Intel IA 64 Itanium 2 Montvale Dual Core 1.600MHz(6.4 Gflops)

Peak Performance

15.360 GFLOPS

Interconnect

Infiniband 4x DDR 20 Gbps

Memory

19.670 GB

Disc

390.000 GB

OS

Unix, Linux, Windows

Year Installed

2007
Architecture

2 nodes SMP Cluster

Number of Processors

128

Type of Processor

Intel Itanium2, 1500 MHz, 6 Mbytes cache

Peak Performance

768 GFLOPS

Interconnect

Infiniband

Memory

384 GBytes

Disc

7 Terabytes

OS

HP-UX

Year Installed

2003
Architecture

Cluster of 8 SMP servers

Number of Processors

32

Type of Processor

Alpha EV68 1 GHz

Peak Performance

64 GFLOPS

Interconnect

Memory Channel Dual Rail

Memory

80 GB

Disc

2 TB

OS

Tru64

Year Installed

2002
Architecture

PC Farm (Self Made), Beowulf Cluster

Number of Processors

Over 96 processors

Type of Processor

Intel Pentium III 1GHz up to P4 3,2 GHz

Peak Performance

528 GFLOPS (nodo CESGA)

Interconnect

Myrinet and Gigabit Ethernet

Memory

512 MB - 1GB per node

Disc

9 up to 160 GB per node (over 12TB global)

OS

Linux

Year Installed

2000 (first stage)
GRID

Architecture

Blades Dell PowerEdge 1955


Number of Processors

40

Type of Processor

Intel quad-core:
36 Intel Xeon 5130 1.6GHz
4 Intel Xeon 5355 2.66GHz


Peak Performance

2183 GFLOPS


Interconnect

Gigabit Ethernet

Memory

4GB (nodes Xeon 5130)
8GB (nodes Xeon 5355)


Disc

SAS 73.4GB (nodes 5130)
2x SAS 73.4GB (nodes 5355)


OS

Linux

Year Installed

2007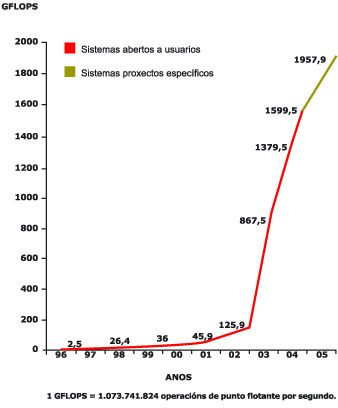 Last Updated ( 11.07.2011 )